Binance, the arguably largest cryptocurrency exchange by trading volume, has recently announced that it will launch a LINK/USD coin-margined perpetual contract.
The exchange made this known via its official Twitter handle a couple of hours ago. According to the report, the trading of the pair will be live on 19th August 2020, at 7:00 AM (UTC).
Binance exchange tweeted, "Futures Will Launch Chainlink LINK/USD Coin-Margined Perpetual Contract With Up to 75x Leverage."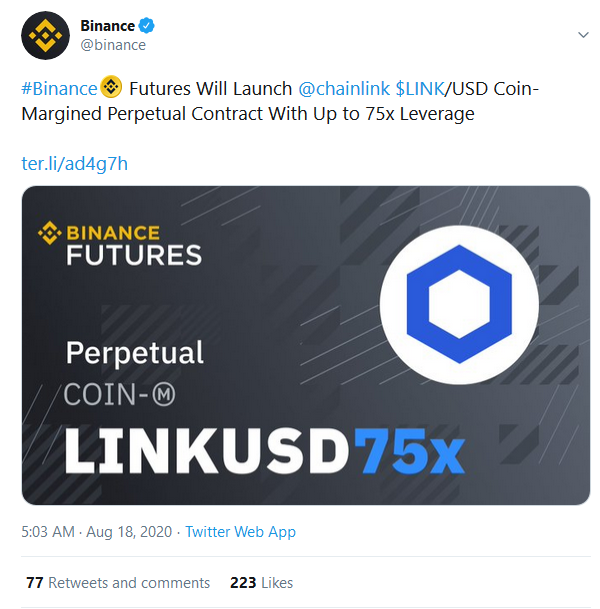 Giving details about the new trading pair, Binance stated that LINK/USD coin-margined perpetual contract is a futures contract that uses Chainlink's native token, LINK, as collateral, adding that users will be opened to choose between 1-75x leverage.
Conclusively, the exchange warned users about the high risk that abounds in futures trading, due to high volatility of digital assets in the market. Binance added that there is an equal possibility for users to accrue significant profits as well as losses in the process of getting involved. Liquidation of all margin balance in users' futures wallet is also possible.
Chainlink (LINK) Price in the Market
Chainlink (LINK), the 5th largest cryptocurrency by market capitalization, finally underwent price weakness after a rally that aided the coin to record a new price all-time high.
According to the data from TradingView, the price of the digital token LINK dipped from relatively $19 to $14.50 in the space of 30 minutes.
The data also indicates that the digital asset plummeted concurrently across all major crypto exchanges, which implies that there was a huge liquidation.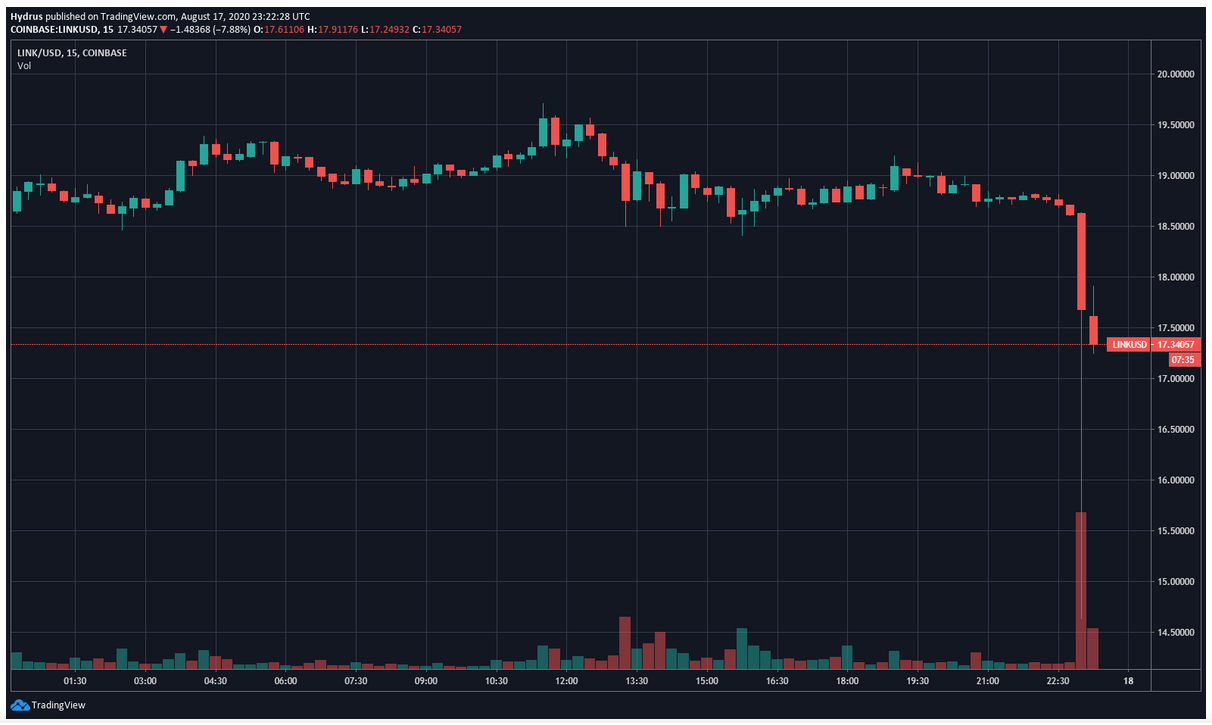 Also, it was noticed that the recent dump took place moments after Placeholder Capital's Chris Burniske criticized the project on Twitter:
"More likely that LINK pumps like mad through this cycle, whales dump towards the end, late-retail gets crushed, and then Chainlink gets replaced by better systems over time. If you decide you don't like me because I'm not a fan of LINK's approach, your choice. I don't judge peoples' entire character based on a single asset they choose to (or not to) allocate capital."
However, the cryptocurrency has been resilient in the market since the huge crash played out. At the time of filing this report, LINK is trading at $17.38, with an 8.79% price downtrend in the last 24 hours.
Join us on Twitter
Join us on Telegram
Join us on Facebook