According to the crypto analytics platform Santiment, many top cryptocurrency whales are quietly accumulating six Ethereum-based digital assets amidst the recent Bitcoin price rally.
Santiment revealed that the amount of each of these six crypto assets held by the top non-exchange whale addresses has hit one-year highs in the past week.
Santiment tweeted, "With most eyes on Bitcoin's market price between this $12,700 and $13,300 range, whales of many respective ETH-based altcoins have added to their non-exchange bags. ETH, LINK, REN, ELF, KNC, and ZRX are among those recently hitting one-year highs."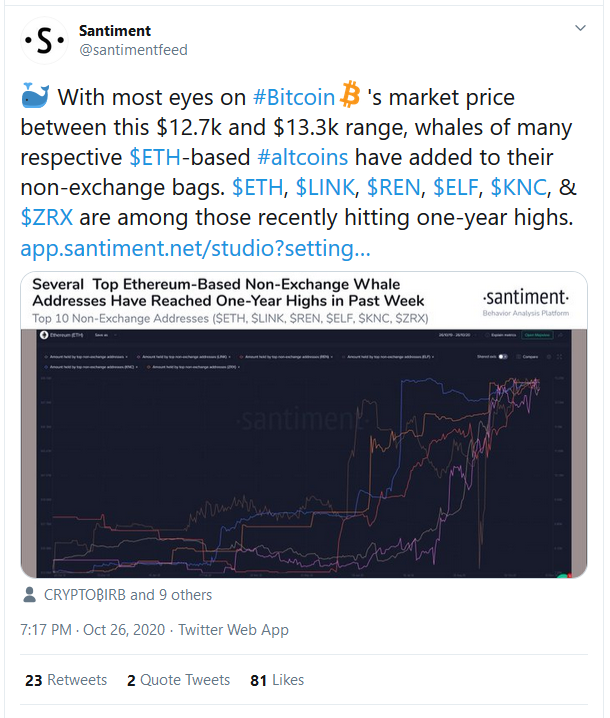 Ethereum (ETH) Current Price Compared To Its 2019 High
At the time of filing this report, Ethereum (ETH) is priced at $386.87, which is about 20% down from its 2020 high of $489 recorded in August when decentralized finance (DeFi) projects started to experience their major breakthroughs.
Read Also: Notorious Ethereum Thieves Attempt To Obscure $119,000,000 worth of ETH
According to Santiment, ETH is currently showcasing bullish and bearish metrics concurrently:
"There is good news and bad news for Ethereum's quest to again surpass the $420 price barrier.
The good news is that miners aren't selling, and there is a big increase in new ETH addresses being created, and pre-existing addresses have shown an increase in activity. The bad news is that social sentiment is bordering on euphoric territory, and daily active deposits have jumped in a big way."
On the other hand, the five most popular cryptocurrencies among crypto whales have as well failed to record new price highs in the past week and their price trends have been back and forth in the past few days.
Join us on Twitter
Join us on Telegram
Join us on Facebook