500 Million XRP Locked In Escrow at Ripple
According to Whale Alert, the live tracker of large cryptocurrency transactions from and to exchanges, 500 million XRP has recently been locked in escrow at Ripple. This transaction was effected on 3rd February 2020 at 23:34:20 UTC and shared on Twitter by Whale Alert.
🔒 🔒 🔒 🔒 🔒 🔒 🔒 🔒 🔒 🔒 500,000,000 #XRP (126,137,081 USD) locked in escrow at Ripple

— Whale Alert (@whale_alert) February 3, 2020
The huge transaction was termed "back to me", so it won't raise any alarm of Ripple's consistent sales of the digital token XRP.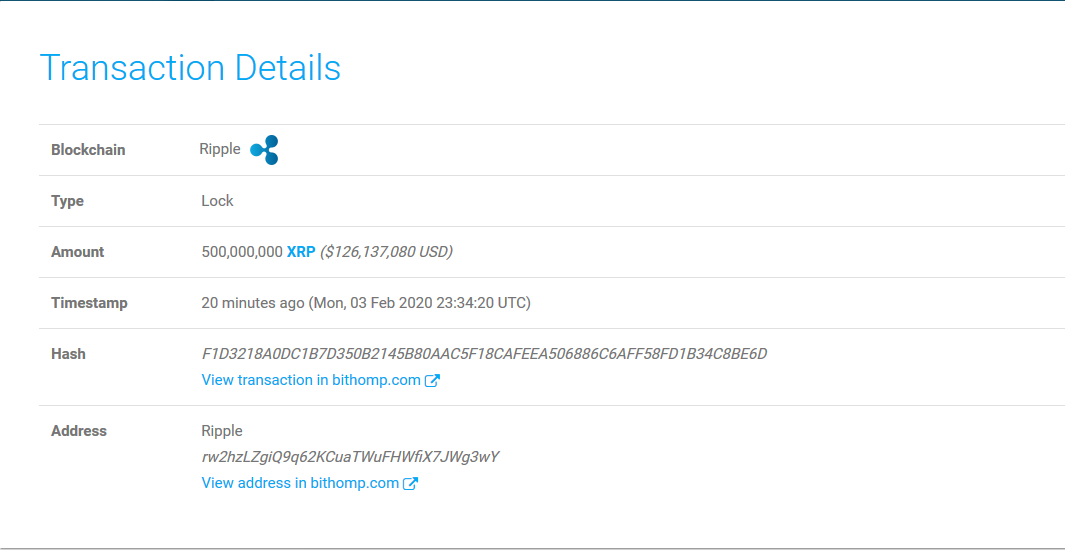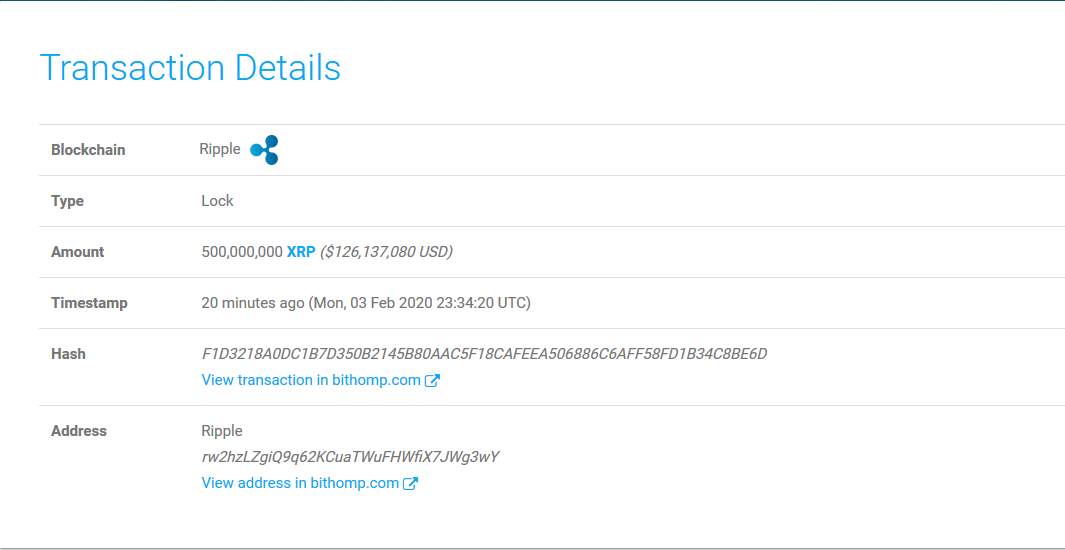 Image Credit: Whale Alert
Ripple's Sale of XRP to Exchanges Keeps Declining as Promised
Sometimes in the just concluded year, Ripple, the US-based blockchain tech that oversees the distribution of XRP assured that the sales of the digital asset to the exchanges will keep declining in the subsequent quarters, and this is already playing out.
Many crypto enthusiasts and some XRP community members believe that this incessant sale of the cryptocurrency to the exchanges is the major factor affecting the price growth of the digital currency, while Ripple has consistently claimed otherwise.
Ripple has consistently taken time to disclaim the control it allegedly has over the price of the digital token XRP, assuring that the monthly sales are not meant to control the price of the third-largest digital currency by market capitalization.
XRP and Other Cryptocurrency in the Market
Virtually all the top 20 digital currencies in the market have been in the red zone over the past hours. This implies price depreciation. Bitcoin (BTC), the largest cryptocurrency has since lost its minor support, dipping towards the $9,000 regarded as its major support for the next price uptrend.
the top 20 Altcoins, including Ripple's digital token XRP, are replicating the same price trend. However, there might be no cause for alarm as moments of price retraction which would be followed by price resurgence abound in the crypto market.
At the time of filing this report, XRP is trading $0.250769, with a 0.59% price downtrend in the last 24 hours.